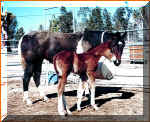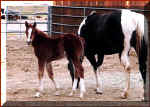 Sire: Gotta Wear Shades (APHA chestnut Overo)
Dam: Sweet Siemon Dream (APHA Bay Tobiano)

Val is a 2/2000 chestnut breeding stock filly. Quick learner,
athletic, with superb confirmation. Very kind and gentle.
Win with the filly at the futurities. Great LL prospect.
Clips, trailers, ties, round pen and hot walker.
Outstanding Youth/Ladies horse.
Bloodlines include Sonnys Heir, Yellow Badger & Coys Bonanza.
Offered at $3000


Home

Horses for Sale

Dutchess

Cinnamon



Last Updated 6/6/01